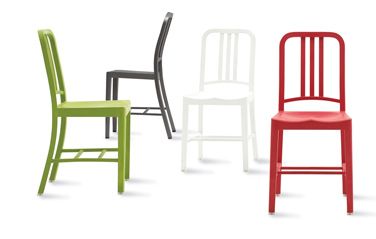 I love it when an old family owned company like Emeco tries new venues. For its 111 Chairs Project it gave 111 influencers 111 type 111 chairs and interviewed them at the same time….The interviews can be found on 111 Navy Chairs, a Tumblr Blog.
I feature the Kirk Dina interview as it fits our Chairchez L'Homme series perfectly.
I retumblrd it an then use Press This to create the body of this post. It works fine now.
Director and Storyteller, Kirk Dianda is best known for his ability to intimately capture people and their story on film. With a passion for skateboarding, his first creative pursuit straight out of high school was 411VM, a skateboard video magazine. The success of 411, launched an industry of its own, producing films and videos, video game content, commercials, music and music videos, with Kirk as the Creative Director.

For a peek into his world, check out his avant-garde blog; OPP (Other People's Posts), an ongoing collection of likable products and stories, stolen from throughout the web on a daily basis.
Kirk Dinda thanks Emeco here
via 111navychairs – Kirk Dianda.